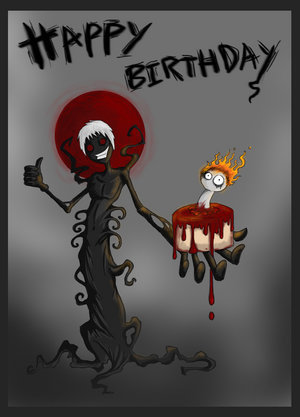 Today is
Castle Macabre's
one year Blogoversary and I would like to thank all of you for making this year so amazing!!
I have some great events coming up this Fall. October brings Castle Macabre's
Season of the Witch
. I'll be posting full details soon, but here's a little preview. I'll be looking for guest posts from authors and/or bloggers and if any authors want to donate a book for a spotlight/guest post/giveaway, please let me know. The focus is going to be witches, but anything scary is game! I will be focusing my reading in October on witch related books and I would love for people to join me. And of course, there will be a giveaway. Stay tuned for details!
The
FrightFall Read-a-Thon
is coming October 1-7. I will be hosting over at
Seasons of Reading
, but I think I will participate via this blog this time. Poor CM is feeling neglected! Details and sign-ups will be coming soon over at
Seasons of Reading
. Hope you will join me!
****GIVEAWAY****
Now...it's time for the blogoversary giveaway! I've picked four of my favorite horror/scary novels and I'm going to give one winner their choice out of the four. Since I'll be using
Better World Books
, this will be an
INTERNATIONAL
giveaway! Please keep in mind that these will be used books, but
Better World Books
has a great selection of used books. I've ordered many from them and I've never been disappointed. Please fill out the rafflecopter form to enter.
Giveaway ends on 8/31/12 at 11:59pm CST.
Good luck!
Here are the books (covers shown may not be the cover you receive).
Interview with the Vampire
is the first book in Anne Rice's
Vampire Chronicles
. If you've already read it and would like one of the other books in the series (see the entire list
HERE
), that will not be a problem.
Duma Key
by Stephen King
Dracula
by Bram Stoker
Ghost Story
by Peter Straub
Interview with the Vampire
by Anne Rice
a Rafflecopter giveaway
Quick shout out to my friend, Kate (
Read 2 Review
) for helping me put this post together. =O)